Set amidst beautiful Norfolk countryside, in the heart of Black Shuck country, Ruff 'n' Tuff Clothing Ltd is one of the largest UK suppliers of Carhartt.

We wear it ourselves, therefore we are able to provide our customers, old and new, with an un-surpassed online retail experience, offering the best possible product advice. Whether you fancy a new hoodie or pair of work trousers, or if you need to kit out your entire workforce in bespoke kit with company logo, we will ALWAYS do our best to help you achieve your goal.
We carry a huge range of Carhartt products in stock available for same day shipping. However, ordering daily, we have direct access to the ENTIRE European Carhartt Workwear range, so your new item is never far away.
We want to lead the way. Our website is updated daily, so our customers can be assured that any newly released products will be available to buy quickly, and the benefit of any price reductions are available too!
Synonymous with durability and style, Carhartt is a multi-billion dollar/year family-run company founded in 1889 by Hamilton Carhartt in Detroit. It has factories all over the globe and its double-front logger trousers have been the most popular pair of trousers in the world, outselling the likes of Levis and Wranglers, etc.
Ruff n Tuff Clothing working with Carhartt... A WINNING TEAM.
Castle Clothing Ltd - Castle Clothing is just down the road from us in the Waveney Valley and we are pleased to represent their two brands of Workwear (TuffStuff and Fort). Everyday, no nonsense workwear at affordable prices.
Rachel's trip to the new European HQ in Amsterdam - September 2018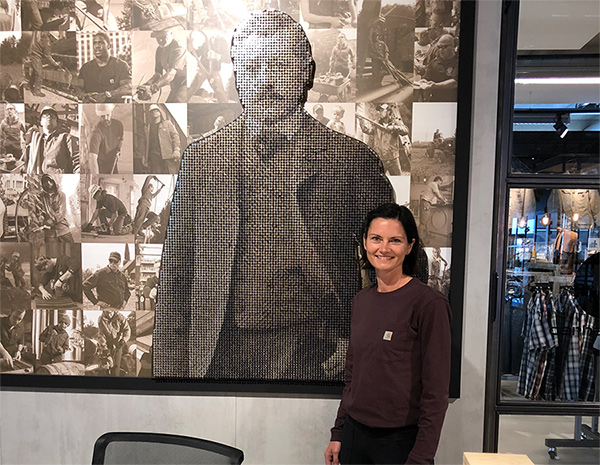 In front of a mural of Hamilton Carhartt made out of Phillip's head screws.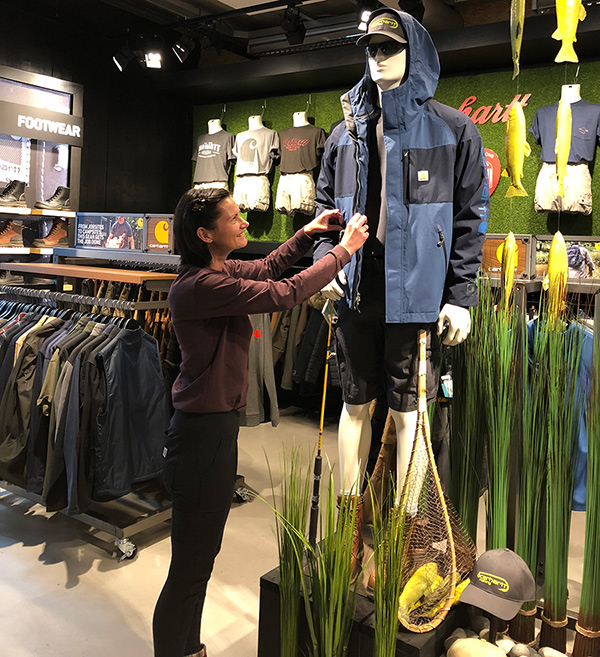 The new showroom showcasing Spring 2019 fishing and outdoor range.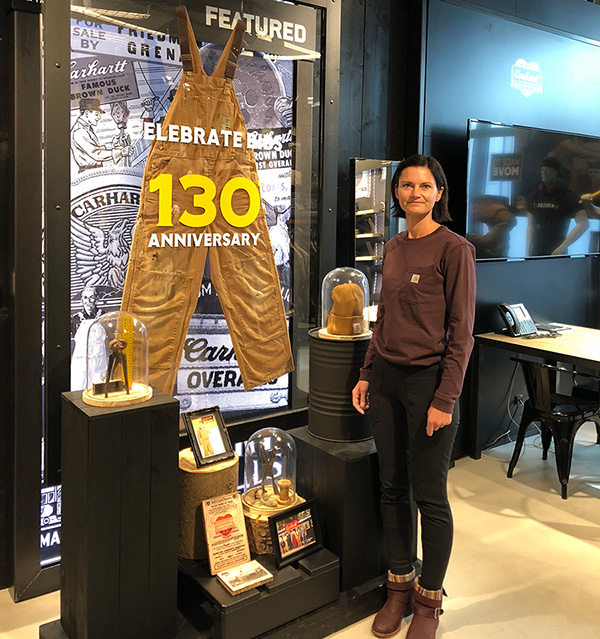 2018 celebrates 130 years of the Carhartt brand.
Rachel's trip to Carhartt Europe's HQ in Amsterdam - November 2015

Rachel with Albert - Carhartt Europe's Managing Director

Carhartt Europe HQ

Rachel with the European sales team